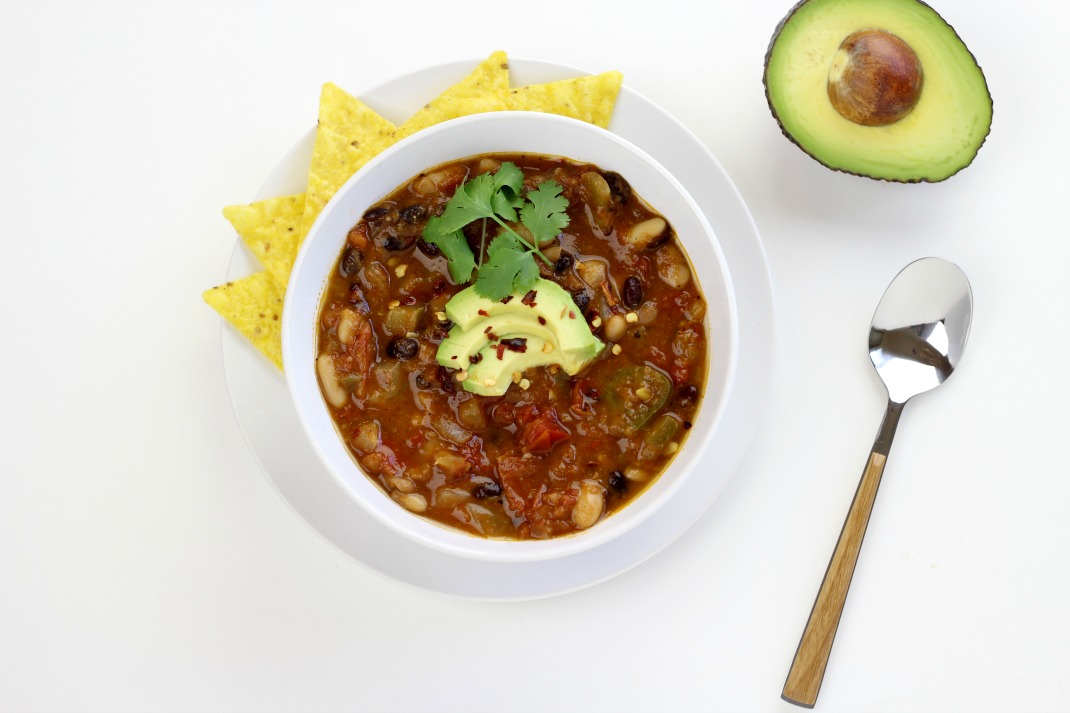 Happy Cinco de Mayo! I was inspired to create something to celebrate today but I didn't plan ahead and didn't have time to go grocery shopping so I ended up throwing a bunch of ingredients together last minute to create this Mexican inspired chili. It turned out much better than I anticipated so I thought I would share this simple recipe with you, too! It's been a little cooler where I live the past couple of days so it was the perfect dish – spicy, warm, & satisfying. I hope you enjoy!
Mexican-Inspired Bean Chili 
1 large zucchini, chopped
1 red bell pepper. diced
1 yellow onion, diced
1-2 Tbsp olive oil
1 medium jalapeno pepper, seeded and chopped
4 cloves of garlic, minced
1 1/2 cups vegetable broth
1 (28 ounce) can fire-roasted diced tomatoes
1 (14 ounce) can black beans, drained and rinsed
1 (14 ounce) can cannellini beans, drained and rinsed
1 (14 ounce) red kidney beans, drained and rinsed
2 Tbsp tomato paste
2 Tbsp ground chili powder
1 Tbsp hot sauce (your favorite brand)
1 Tbsp ground cumin
1-2 tsp ( or to taste) Himalayan sea salt
1 avocado (for topping)
Fresh cilantro (optional , for topping)
Directions:
Over medium heat, add olive oil to a large pot and sauté the onion, peppers, and zucchini for 5 minutes to soften. Add the minced garlic. Sauté for about two more minutes and then add the vegetable broth, tomato paste, diced tomatoes, and beans. Stir to combine, then add seasonings and hot sauce. Simmer on low heat for 10-25 minutes. The longer it cooks, the more the flavors intensify. Serve with sliced avocado, fresh cilantro, and your favorite tortilla chips.